"Where we might begin": Professional Writing Minor Capstone Seminar Colloquium
May 25, 2022
-
May 27, 2022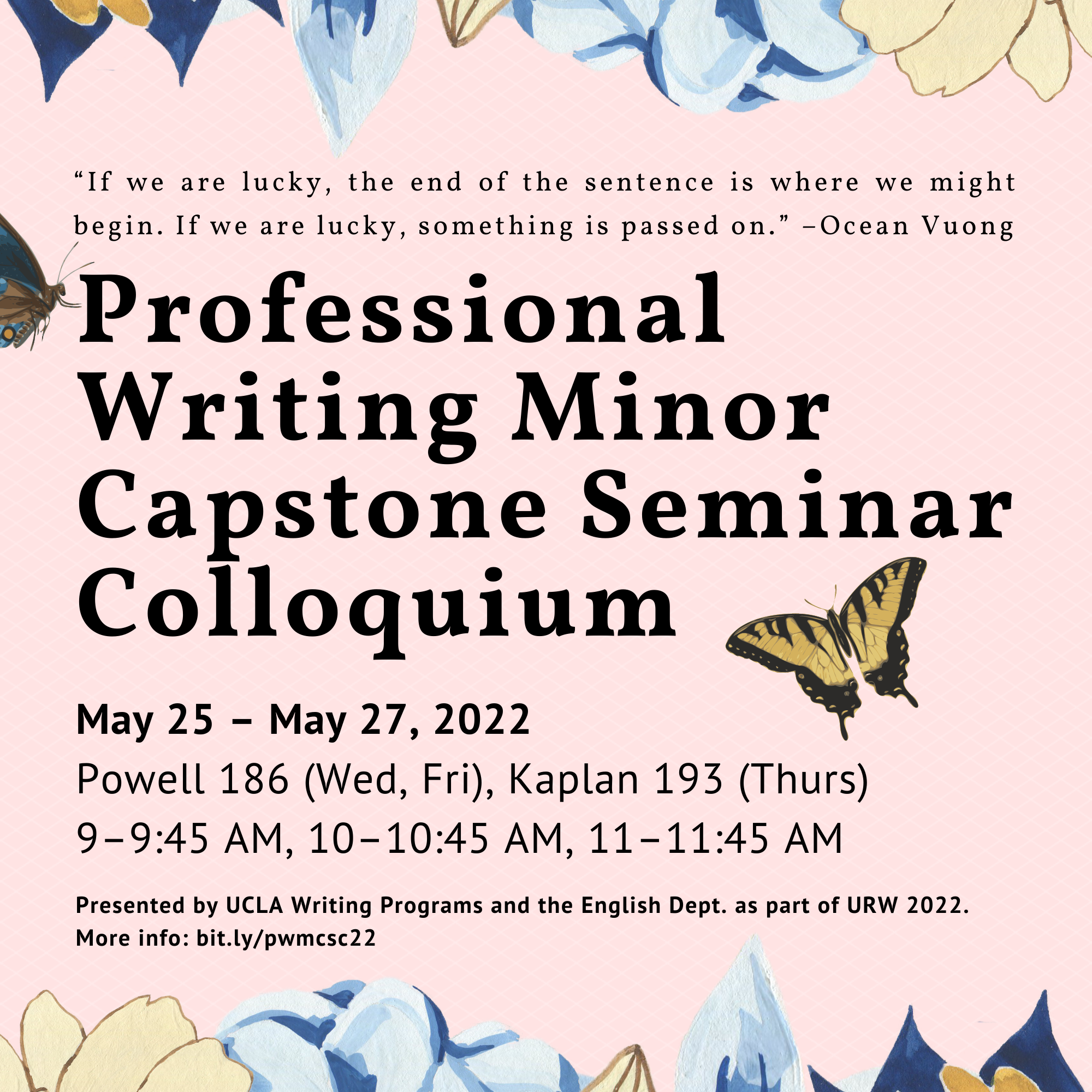 "If we are lucky, the end of the sentence is where we might begin. If we are lucky, something is passed on." –Ocean Vuong, Poet, Essayist, Novelist
About The Event
The UCLA Department of English and UCLA Writing Programs invite you to a special colloquium organized as part of Undergraduate Research Week 2022. In this series of panels, students from the Professional Writing Minor (PWM) will present an exciting array of capstone seminar projects.
A new and growing minor with just eleven graduating seniors in 2020, forty of the PWM's seventy-one graduating seniors this year will present on a rich diversity of topics that exemplify the range, depth, and individualized paths possible within our minor. From immigration to nanopore sequencing, college math pedagogy to Los Angeles art galleries, students from diverse majors will share their original work in a range of genres including personal memoirs, professional websites, video productions, cultural criticism, and more.
We welcome friends, family, faculty, staff, and students, including past, current, and future Professional Writing minors. Join us to experience writing as an act of both communication and exploration, as these emerging writers use their sentences to continue and pass on their discoveries.
Schedule
Wed. 5/25: 9-9:45am, 10-10:45am, 11-11:45am, Powell 186
Thurs. 5/26: 9-9:45am, 10-10:45am, 11-11:45am, Kaplan 193
Fri. 5/27: 9-9:45am, 10-10:45am, 11-11:45am, Powell 186
Wednesday, 5/25/22
(Powell 186)

Thursday, 5/26/22
(Kaplan 193)

Friday, 5/27/22
(Powell 186)
List of Presenters and Project Titles
Jad Aazami; Transcendentalism Reveals Modern Slavery

Robby Ackles;

Working On It: How Young Professionals Can Make an Impact in the Workplace
Nat Albaran; Anecdotle
Lynette Caballero; Money is Always an Issue
Ethan Carroll; Saying No to the Hospital
Marilyn Chavez-Martinez; Kaleidoscope
Ashla Chavez Razzano; The Young Curator's Guide to the Sprawl of LA: Southern California's Great Metropolis and the Galleries Within
Kaylee Elijah; K-pop Fandom: Marginalized Women and Their Empowering Traditions
Ida Funke; The History and Future of California Wildfire
Nicolette Gelnak; The End of the Line
Shayan Ghaziaskar; How Fundamental Economic Theory & History Can Help Us Understand Our Noisy World
Scotty Gough;

For Students? For Teachers? Why not both?

Jairo Gutierrez; Who Owns My Music?: Intellectual Property in Entertainment
Griffith Hughes; Nanopore Sequencing: A Brief Review
Lauren Kim; Fusion
Casey Laret; Medici, Explained
Ha My Duy Le; Little Creek Writing Co: A Cultivation of Copywriting
Julia Licursi; Impact by Design: Brand Strategy for Next-Generation Social Entrepreneurs
Veronica McClelland; A Walk Through my Mind
Dzuy Nguyen; In the Teeth
Hannah Nguyen; Pop Press Blog
Helen Nguyen; CozyGamesCafe Blog
Taylor Nossaman; First Impressions
Juliette Oliver; Kazakhstan Then and Now: Exploring Nomadic Pastoralism and Kazakh Tradition Through Study Abroad
Maya Radhakrishnan; In Collective Fashion
Aniela Ramirez; Only in Dreams

Meghan Rhoades;

Sustainability, Creativity, Community: Unravel at UCLA
Maryna Sanchez; Critical Media Literacy: Through the Lens of Gen Z
Brooke Sauceda; Seeing Those We Don't Hear: A Look into Representation of the Deaf and Hard of Hearing Communities in Film
Jasmine Schuette; Social World Anti-Social Girl
Yasmeen Sheik; Know Your Fears
Jacqueline Silva; A Love Letter to the 916
Kailee Silver; Do You Believe in Life After Love?
Maegan Smith; How to Read (and Look) Like a Pro
Rox Song; Mugunghwa
Amber Thatcher; The Second Draft: Analyzing Comedy, Characters, and Conflicts in Fiction
Cassidy Tran; Crime Hurts, Justice Heals: Envisioning Restorative Justice in America
Danica Tran; What You Don't Know CAN Hurt You: Interpreting Scientific Articles About the College Experience
Caroline Von Raesfeld; Who is the Lone Genius?
Isabel Wong; Level-Up the Game: How to Empower Women in Video Games

The PWM Capstone Seminars are led in Sp22 by Writing Programs faculty: Drs. Dana Cairns Watson, Liz Galvin, and Amber West.
Presentations followed by Q&A. Refreshments provided. Free and open to the public. 
We will adhere to UCLA's COVID-19 event guidelines. Please complete the Symptom Monitoring Survey prior to arrival.
Click here to view a flyer for the event in PDF format.
Click here to view a flyer for the event in JPG format.