"Poets in Prose": Professional Writing Minor Capstone Seminar Colloquium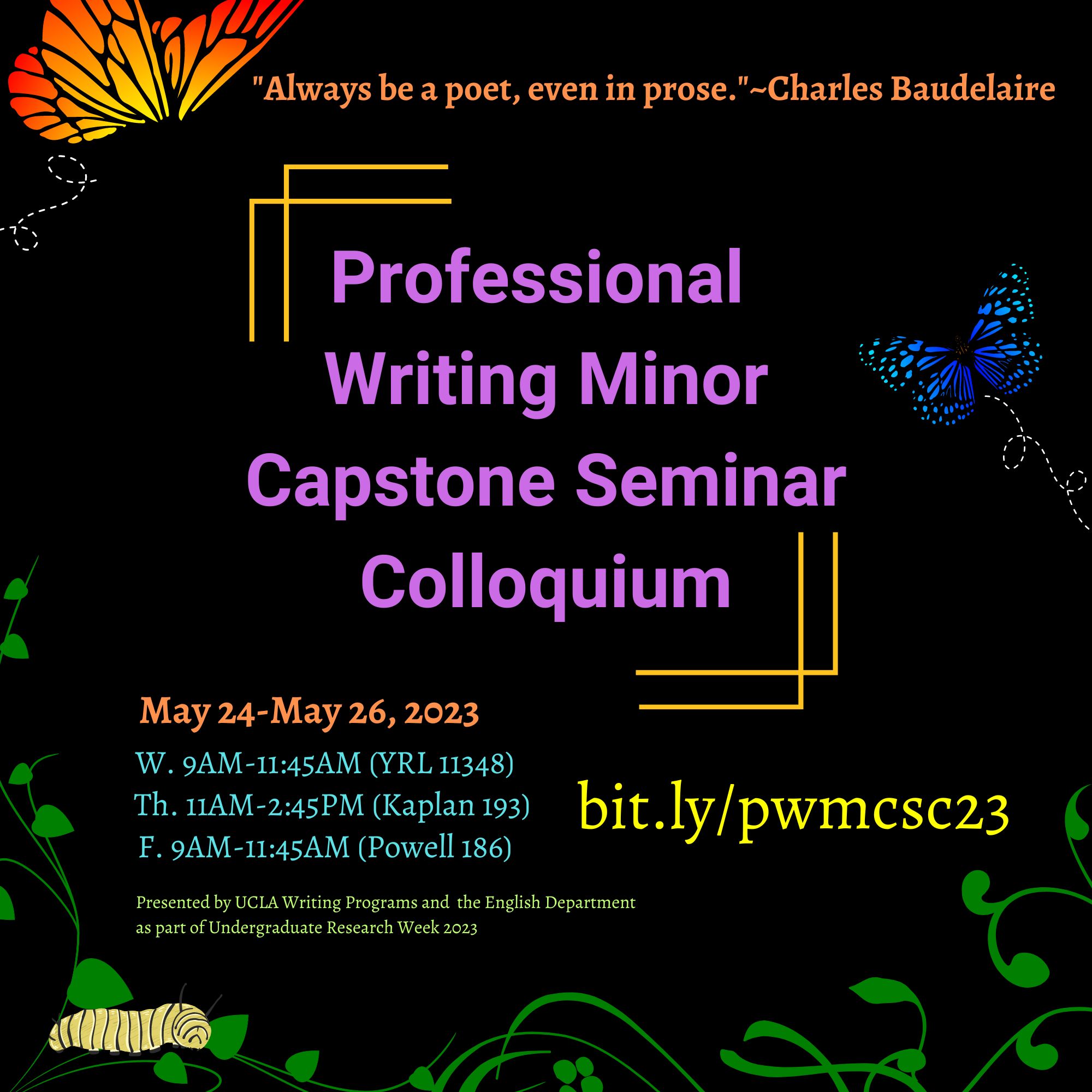 "Always be a poet, even in prose." -Charles Baudelaire
About The Event
UCLA Writing Programs and the UCLA Department of English invite you to our second annual Professional Writing Minor Capstone Seminar Colloquium, organized as part of Undergraduate Research Week 2023. In this series of panels, students from the Professional Writing Minor (PWM) will present an exciting array of capstone seminar projects.
A new and growing minor with just eleven graduating seniors in 2020, forty-one of the PWM's seventy graduating seniors this year will present on a rich diversity of topics that exemplify the range, depth, and individualized paths possible within our minor. From baseball card pricing to public school assemblies, orchestral cookbooks to fairy tales, students from diverse majors will share their original work in a range of genres including personal memoirs, professional websites, podcasts, cultural criticism, and more.
Our panels are free and open to the public. Friends, family, faculty, staff, and students, including past, current, and future Professional Writing minors, are welcome to attend. Join us to experience writing as an act of both communication and exploration as these emerging writers share their insights and discoveries.
Schedule
Wed. 5/24: 9-9:45AM, 10-10:45AM, 11-11:45AM (YRL 11348)
Thurs. 5/25: 11-11:45AM, 12-12:45PM, 1-1:45PM, 2-2:45PM (Kaplan 193)
Fri. 5/26: 9-9:45AM, 10-10:45AM, 11-11:45AM (Powell 186)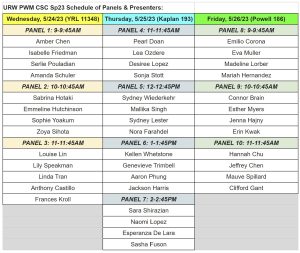 List of Presenters and Project Titles
Connor Brain; Savoring Tradition: A Culinary Account of LA's Legacy Restaurants
Anthony Castillo; Amateur Detectivism: Web Sleuths and Social Media in Contemporary True Crime Investigations
Jialun Jeffrey Chen; The Facade of American Polyglots
Amber Chen; Serving Justice Behind Closed Doors
Hannah Chu; Does language still define humanity in the era of ChatGPT?
Clifford Gant; A Mother, A Mirror: A Family History of Adoption
Emilio Corona; Hills
Esperanza De Lara; The Cost of Progress: The Future of Domestic Energy in the U.S.
Pearl Doan; The Fall of Antibiotics (and the Rise of Gonorrhea)
Nora Farahdel; Changes
Isabelle Friedman; 'We were always seen as temporary': Inside the Experiences of Mothers Working as UCLA Lecturers
Sasha Fuson; "People Make Culture": Feminist Media Criticism in 2023
Jenna Hajny; Serenity Outside: An Exploration of US National Parks
Jackson Harris; Pop Stars in the Modern World
Mariah Hernandez; The Real Families of True Crime: An Exploitation of Trauma in True Crime Entertainment
Sabrina Hotaki; The FOMO Epidemic: Investigating Fentynal Overdose Crisis Among College Campuses
Emmeline Hutchinson; American Gun Violence
Frances Kroll; The Mathematician's Guide to Proficiency in Patisserie
Erin Kwak; Content Content
Sydney Lester; Empowered or Objectified? Social Media and the Paradox of Contemporary Feminism
Louise Lin; Fairy Tales: General Appeal and Personal Zeal
Desiree Lopez; Meaning of Life Project
Naomi Lopez; Golden Hours
Madeleine Lorber; The Implications of Attachment
Eva Muller; Spirituality in a Secular Age: An Inquiry into Youth's Quest for Purpose and Meaning in the 21st Century
Esther Myers; UCLA Herb Alpert School of Music Community Cookbook
Lea Ozdere; Convergence in Divergence: Coming Together in Our Separate Battles
Aaron Phung; Bouncing through the Pressure: Reflections on AAU Basketball and Youth Competitiveness
Serlie Pouladian; Barriers Stronger Than Tuition
Amanda Schuler; Changing the Narrative
Sara Shirazian; Sara Shirazian's Creative Identity Portfolio
Zoya Sihota; Space Matters: How Urban Form Can Foster a Sense of Community
Mallika Singh; Born to Love, Doomed to F*ck
Lily Speakman; Representation and Reclamation in the Fantasy Genre
Mauve Spillard; Analyzing Translation Through Dazai
Sonja Stott; Assembly Required?
Linda Tran; Power Up: Finding "Authentic" LGBTQ+ Diversity and Representation in Video Games
Genevieve Trimbell; For The Love Of The Sport
Kellen Whetstone; Predicting Baseball Card Prices With Stats
Sydney Wiederkehr; My Concept of Womanhood: Deconstructing Male Desire and Restoring Female Power
Sophie Yoakum; Westwood's Small Businesses Have a Big Problem

The PWM Capstone Seminars are led in Sp23 by Writing Programs faculty: Dana Cairns Watson, Amber West, Maja Manojlovic, and Darien Battle Johnson. 
Click
here
 to view a flyer for the event in JPG format.
Click 
here
to view a flyer for the event in PDF format.
Click
here
to view a square flyer for event in JPG format.