Director's Message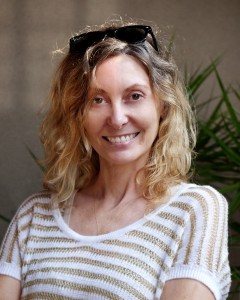 Director's Message 2019-20
Welcome to the 2019-20 academic year!
I'm excited to kick off my third year as UCLA Writing Programs Director.
Here's why:
For starters, it's because writing matters. There's evidence for this everywhere. On campus, we've seen that undergraduates who sharpen their language and writing skills register learning gains in all of their other course work. In the workplace, studies show that employers will select the applicant who writes better when choosing between comparable job candidates. Enhanced communication and rhetorical tools are absolutely essential to success at UCLA and beyond, and Writing Programs provides them.
In fact, the work we do in our classrooms and through our Undergraduate Writing Center extends into every other room on campus, in every department, right up to, and past, graduation.
This, you could say, is Writing Programs' core mission: to foster transformative learning experiences that provide students with the perfect opportunity to appreciate their collective diversity, grow their self-confidence, cultivate their communication skills, and enhance their sense of belonging in the greater university community.
Our talented, devoted teaching faculty is constantly expanding the Programs' footprint on and off campus through a variety of innovative and important initiatives, including celebrating outstanding undergraduate writing and offering special arts programming.
Here are a few more highlights:
– We're enrolling students in the Professional Writing Minor to provide undergraduates more specialized writing experiences that range from business and entrepreneurship to digital media, entertainment arts, and science writing, which we're offering in collaboration with the English Department.
-We're serving thousands of undergraduates through workshops and more than 11,000 writing consultations at the Undergraduate Writing Center locations throughout campus as well as helping instructional teams through feedback on writing assignments.
 – We're partnering with the Ric and Suzanne Kayne Foundation to support the success of first-generation Kayne Scholars headed to UC and CSU campuses in STEM and business fields.
– We're offering upper- and lower-division writing courses that satisfy the campus
Diversity Requirement through a thematic focus on equity and diversity as well as a writing workshop for student veterans called Writing the Military Experience.
– We're helping to provide higher-education access to LA-metro high school students through the generosity of donors to our Summer Writing Institute: Introduction to College Writing and providing opportunities for international students to study English language and culture during the summer.
– We're collaborating on teaching projects across campus, including in there imagined Honors Collegium program, and on academic belonging research with the Office of Equity, Diversity and Inclusion.
– We're supporting online instructional modules in writing and research education with the learner-led cross-campus media group, WI+RE.
– We're offering a Graduate Certificate in Writing Pedagogy that includes graduate course on Diversity and Student-Centered Pedagogy for next-generation faculty.
– We're volunteering writing support for students incarcerated with the UCLA Prison  Education Program.
– We're teaching evidence-based teaching methodologies to graduate students across campus sponsored by the Center for the Integration of Teaching, Research, and Learning in UCLA's new program in Teaching-as-Research.
As you see, Writing Programs uses writing as a tool for inclusive teaching and for outreach, for campus-wide collaborations, for student empowerment and community building, and for innovative thinking.
I'm thrilled to be a part of the impact that Writing Programs makes in the lives of students and teachers.
Please contact me if you'd like to get involved with any of our many initiatives or you're interested in learning more about Writing Programs.
Sincerely,
Leigh Harris
Director, Writing Programs
146 Renée and David Kaplan Hall
310-267-5853